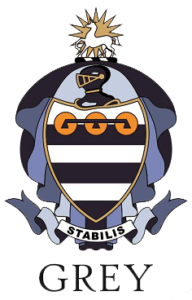 Die Klas van '68 het nie 'n Morné du Plessis, 'n Theuns Stofberg, 'n Kepler Wessels, 'n Hansie Cronjé, 'n Wayde van Niekerk of 'n  Ryk Neethling gehad nie.  Ons kan ook nie spog met 'n Laurens van der Post, 'n Etienne Leroux, 'n Bram Fischer, 'n Denis Earp, 'n Steve Hofmeyr of 'n WA de Klerk nie.
We had a Babrow who played some good rugby at school, but he didn't get Springbok colours like his dad, Louis.  We also had a Marthinus Theunis Steyn, but respected as he is, he is still not as famous as his great-granddad, who was President of the Orange Free State, or his equally famous dad, who was Administrator-general of the then South West Africa.
We had guys who could tinkle on the ivories (the names of Ernest Rood, Philip Prosser and Eric Wolfaardt spring to mind), but they are not as famous as the internationally renowned pianist Charl du Plessis.
Wat ons egter in oorvloed gehad het, was gees en kameraderie. Soos ons gewese skoolhoof, AK Volsteedt, aan die einde van ons matriekjaar aan Wilhelm Landman gesê het: "Julle het nie groot sterre gehad nie, maar as 'n klas was julle almal my droom en hoe ek graag Grey-seuns wil sien. Julle was uniek."
What a privilege it was to be a member of the unique Class of '68!